I kinda need to process this a bit, but hopefully some of you can help me out.
I saw Tim's tweet just now: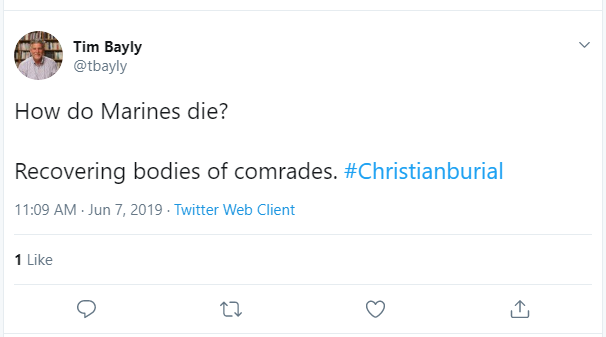 And I have to confess that my first thought was "what a waste of life." This is a point where I'm feeling conflicted. It seems intuitively wrong (to me, at least) to risk the living for the sake of the dead. Yet it is also seems intuitively noble and brave to risk life for the sake of a fallen comrade. I can't write that off.
Considering the issue more broadly, it seems somewhat pedantic (again, I'm just giving my honest reaction) to insist on burial when we know that God will resurrect all bodies at the end of the age, not just the ones that are correctly preserved. And consider: the bones of Abraham, Noah, Moses, or King David are surely dust at this point. Would the physical condition of these saints bodies today, in 2019, be any different had they been cremated instead of buried? I honestly don't know.
Yet at the same time, I've been feeling more and more how scandalous cremation is. The concept is becoming more and more disgusting to me as irreverent and pathetic. What I feel most strongly about is the necessity of seeing the body of the dead. This is good for the living. Especially in a culture like ours which simultaneously fetishizes death and pretends it doesn't exist, we need to be reminded of what real death looks like, that we will all die one day, and that death is the final enemy which Christ will defeat.
I'm still wrestling with how to put all of this together. But as I wrestle, I thought of an analogy: Just because God will one day establish perfect justice on the earth does not mean we should disregard justice on earth today. So why am I so inclined to say that how we treat the bodies of the dead doesn't matter because God will resurrect them all anyway?
What say you?