New Warhorn Media post by Nathan Alberson:


Meesa lookie fowad to dis epeesowd.
Phantom is my second favorite episode. I like the music during the light saber duel.
I'll look forward to listening.
Phantom Menace was thrilling to 13 year old me. First Star Wars movie I got to experience in a theatre.
Attack of the Clones less thrilling (16 year old me).
Revenge of the Sith better than Attack of the Clones, but still not the thrill that
Phantom Menace was.
18 year old me then begins to realize that 18 year old me isn't going to like these movies like 13 year old me would have, and that this is probably a sign of maturity… even though something in me wants to still be enthralled by Star Wars.
25 year old me begins to appreciate that the Empire Strikes Back is the only Star Wars movie that really gets better with age. Also realizes that the prequels are garbage.
33 year old me, having now had 20 years to look back at the garbage that the movie industry has put out since Phantom Menace was released…begins to appreciate Phantom Menace for what it was.
Yeah, I have a soft spot for Phantom Menance.
Quick question - to anyone. My 7-year old loves Start Wars, though he hes only seen Phantom Menace and it's been a year or so. (We've read some books though.) But we will probably watch them all once the weather turns cold and there's not as much day for playing outside.
So. Start with the Phantom Menace and go straight through? Or watch in release order? It's that age old Narnia question but with Start Wars.
Also I haven't seen any of the newer films (incomplete third trilogy films).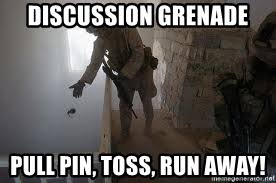 Uh oh. That was close. I almost gave you the rule breaker badge. But I guess since it's not animated I have to let it slide.
There's a rule breaker badge? Hmm… (The mental wheels just went into overdrive

)
Gotta catch em all.

I literally had to look up the rule before posting just to make sure.

I think watching them in the order they were released would have the greatest effect. Let, "No, I am your father," surprise him and then pivot to the prequels.
The order we are doing is
4
5
1
2
3
6
R1
S
7
8
9
Sorry. PM is not Star Wars. I was going to write something more clever, but this movie was so thoroughly terrible that it doesn't even deserve considered scorn.
I'm afraid to rewatch it, as I'm afraid my lingering good will for it will be wiped away.
I used to argue that Episode III was decent, but upon watching it again a couple of years ago, the terrible green screen effects and the clumsiness of the way Anakin is written were far, far worse than I had remembered.