New Warhorn Media post by Tim Bayly:


Took this screenshot to send to you this morning before you had posted this: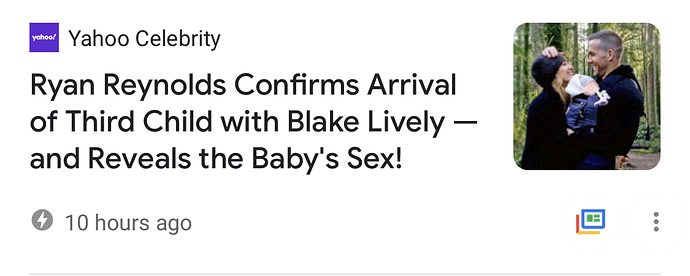 I guess pop media finally listened to your call to stop using the word "gender." Who knew you had so much clout? lol
I'm assuming the world is returning to using the word "sex" for this, precisely because they need to say something, but they know they'll be crucified for pre-determining somebody's gender.
My son turned one a couple months ago, but before he was born my wife and I decided not to find out his sex until he was born. When he was born, the doctor looked to me and said, "OK Dad, tell Mom if it's a boy or a girl." And I looked, and he was a boy. No doubt about it.
That will always be one of my sweetest memories.
We'll take it any way we can get it, right?
My wife and I followed the old tradition of not knowing the baby's sex until birth, but for our third child, my wife let it be known to me that she was pretty sure we were going to have boy (our first) based on some things she overheard from the ultrasound tech. So when the baby arrived and the midwife asked me to report the sex, I stood dumbfounded, furiously puzzling in my mind how a boy could look like this baby did. So instead it was the midwife who declared, "It's a girl!"
I keep laughing and laughing at this. It's a high pressure announcement. Don't want to get it wrong. lol. Glad she put you out of your misery.