New Warhorn Media post by Tim Bayly:
Sadly it looks like your preferred printing of Luther's Galatians commentary in English translation (prepared by Philip Watson) is hard to come by these days and extremely pricey. Supposedly I just found a used copy selling for $14 so I will know in a week or so if it is actually the edition promised or not.
Is this a title that, like Man and Woman in Christ, might find a reprinting through Warhorn Media at some point?
Appreciated this as well as the linked article about purchasing a Bible.
Quick question - I was poking through the link and there is mention of the Geneva Commentary Series. Is this out print/hard to find? I'm googling around and have found one copy of Hutcheson's commentary on John. Its used for like 65 bucks. Just curious - is this the right thing?
Various titles may be out of print, but the series is still being produced.
Some are really really good. Others slightly less so.
Anyone who uses Logos can get their digital edition of the Watson text here. I screenshotted the end of his preface and have confirmed with my hardcover edition that it is, indeed, the entire Watson text.: https://www.logos.com/product/585/luthers-commentary-on-galatians
It is $7.49, easily the cheapest you'll find it. It is also currently included on their free version of the software. (If you get it with the free version just know it can be taken away at any point. In order to have it for sure, you have to pay for it. Let's not get into an argument on Logos ethics at this point.): https://www.logos.com/product/194909/logos-9-basic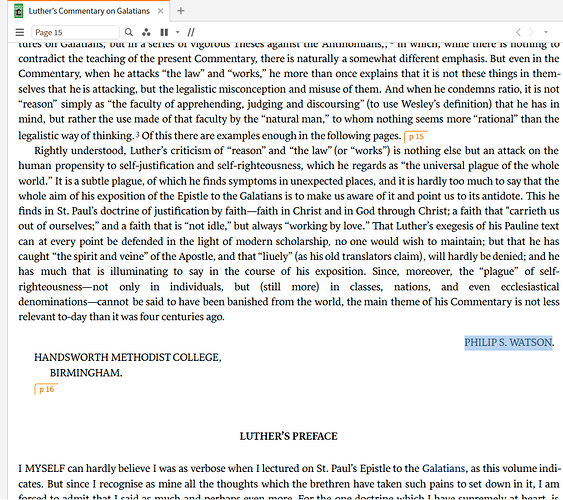 Book arrived today and, as I feared, it wasn't exactly what I had hoped for. What I ended up with is a 1979 photolithoprint of the 1891 John Highland translation published here in paperback by Giant Summit Books/Baker. Book has 575 pages so I'm assuming (hoping) there's no subtractions, especially since we are talking about a 19th century printing originally.
But let me know if you have any issues or thoughts on this 1891 translation that I should know about. I still may try to track down a Watson translation at some point but it looks like Sanityville must have wiped out whatever links y'all sent earlier because all I'm not seeing the same options that were there two weeks ago. Oh well.