New Warhorn Media post by David Bayly:


This is a fantastic summary. Short. Helpful. Wise. Very thankful for it.
Thanks much for this, David.
Love,
This is something I have been saying about the PCA for years, no one brings charges against the unbiblical overtures. AS long as they don't, the progressives will continue to work to wear down the faithful, until they get their way.
Here's how they have ruled so far (in Bills & Overtures Committee):
Recommends affirming Overture 4 (and 22) (Nashville Statement) 74-53-1
Recommends affirming Overture 11 (RPCNA Report) 97-24-4
Recommends ruling out of order Overture 35 (reaffirm previous PCA statements)
Recommends ruling out of order Overture 39 (reaffirm previous PCA statements) 116-5-2
Nothing on MOP's request for Study Committee at this point.
Can any PCA pastor at General Assembly bring charges? Perhaps is uncouth to say so, but I saw pictures of CR Wiley at GA, why wouldn't or couldn't he follow this helpful advice? I'm sure there are others too who are capable men at GA…I'm not expecting him to be the salvation of the PCA, I'm just trying to understand.
There is no way to bring charges at GA…that work needs to happen at the presbytery level. What could be done from the floor of GA is a personal resolution asking for an investigation of MOP or CTS. Two presbyteries could also ask for an appeal of the decision of MOP in their Revoice Report…and the Standing Judicial Commission would take it up…not too much effect, I think.
And the Westminster Presbytery affirmations and denials have now taken a backseat to the weak Nashville Statement…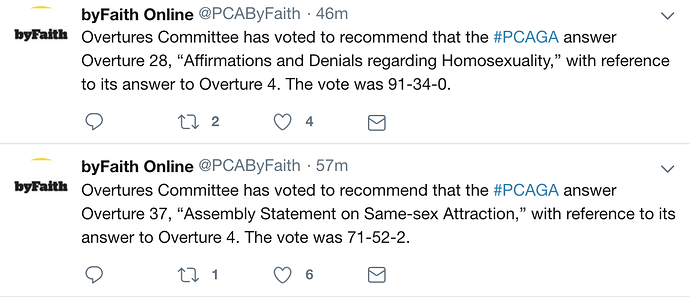 I understood the recommendation to be simply to stand up at GA and speak God's truth with boldness, calling the denomination to repentance. This language in particular:
No such thing exists except to speak publicly against it, which is precisely what the post does.
Moving a commissioner's resolution would provide that opportunity in supporting speech. CR should demand investigation of Covenant Theological Seminary curriculum on sexuality specifying investigation must include public appeal to alumni to send in class notes on what profs said. If they did so, those notes would be appalling when it was a conservative student who was listening and writing the stuff down.