New Warhorn Media post by Tim Bayly:


This is so discouraging. But let me ask:
What would be the best translation for us to use? I'm reading an ESV now.
On FB, someone just asked what I thought of the ESV, and I responded:
It had its origin in that hotel meeting and it's better than most, but Wayne, Vern, and the others caved to political correctness in a number of places, both in the text and footnotes. Removed "malakoi." Removed "old wives' tales." They plead ignorance concerning the meaning of the male inclusive a number of places where the Greek word inspired by the Holy Spirit is "brothers." They were scared to death of the Greek word "slave."

Nevertheless, it has the merit of everyone thinking it's the best conservative Bible, so to the uninformed, using it communicates faithfulness to Scripture. I'd rate it third or so in my list of choices.
So which ones hold first and second?
Without signing on to the textus receptus, I'd say NASB95 and NKJV. My view is the textus-receptus-only folks are borderline superstitious. Nevertheless, I loooove everyboooody!
Those are the top 2 on my list as well. The NKJV fantastic, just make sure to take into account the NU markings. I also wish it made better distinction between 2nd person singular and plural, but it's still pretty great.
You know, I've always said I'd go with NKJV if I left the NASB95…but I've never really investigated it. So, my go to verse: 1 Cor. 6:9. Sigh. The verse is changed substantially from the KJV ("nor effeminate, nor abusers of themselves with mankind"):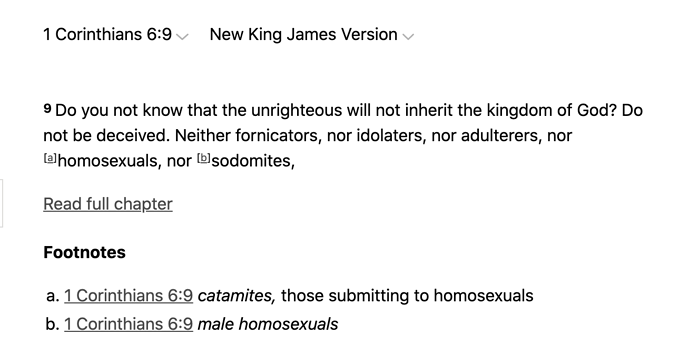 Although, the use of "sodomites" is…refreshing…
We need a NNKJV with that verse adjusted and the plural yous made obvious. Thomas Nelson are you listening?? $$$ to be made."