We are all tired of Covid debates, but I wanted to throw something out there that I saw the other day from Nate Silver. For those who don't know, Silver is a liberal Jewish homosexual writer and statistician known for data journalism and predicting sports and political outcomes.
Something I appreciate about Silver is that while he obviously has liberal prejudices, he's not afraid to follow the data where it leads even when it goes against liberal prejudices. He's capable of independent analytical thought.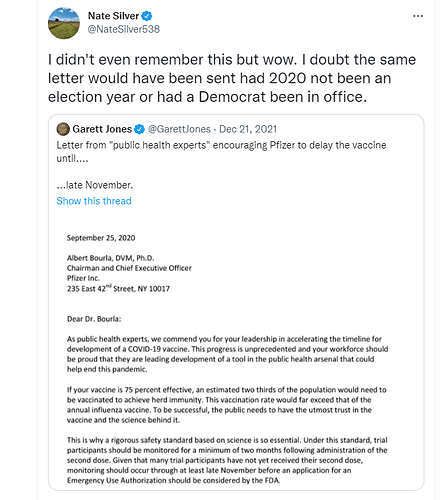 That's what Silver posted on Twitter recently.
Conservative Christians have been saying for almost 2 years that the media and public health experts were conspiring against Trump to cost him the election, and that politics, not science, was driving public health guidelines. There have also been claims of data fraud, that state and federal agencies have exaggerated the death toll from Covid to keep us locked down.
What's interesting is that we do, almost 2 years in, have real evidence of political machinations going on with public health officials, but not of the sort we were expecting. It's not that the vaccine is bogus, it's that they delayed telling us about vaccine development so that Trump could not claim a political victory 1 month before a very close election.
With regard to data manipulation, Andrew Cuomo lost his governorship in part over it, but it's not because he manipulated the numbers upwards, but downwards. More people died than he claimed. He deliberated fudged nursing home numbers down.
Truth is sometimes stranger than fiction. The lies and manipulation don't always work out like you would expect. When even Nate Silver acknowledges this, it's worth paying attention.