You've probably seen these pictures: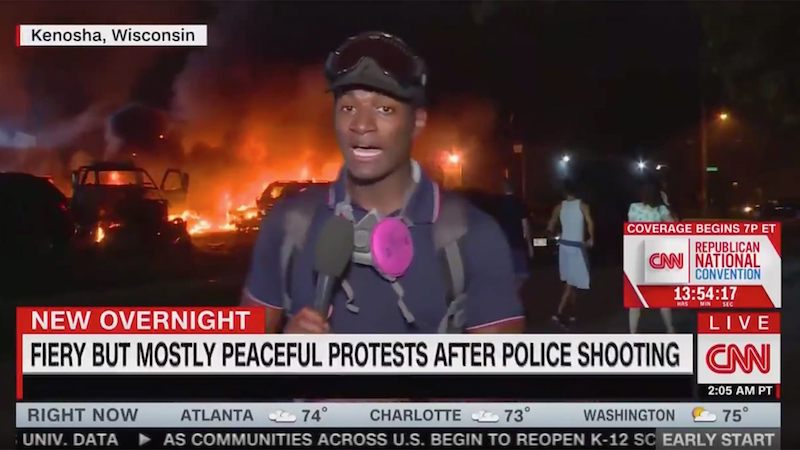 And then this gem: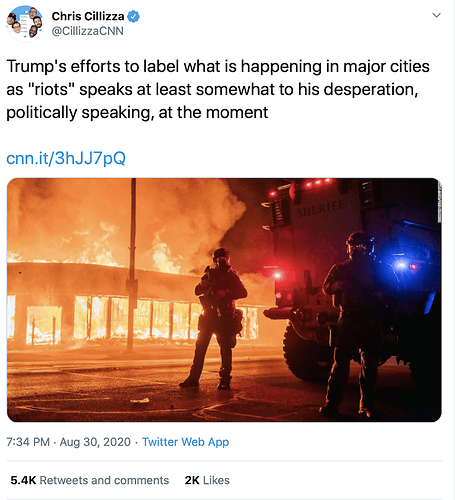 What in the world is going on here? Yes, we've grown accustomed to the lies of the media. But these images struck me as something else. Obviously, the media isn't trying to hide the destruction. But while they show us dramatic images of the carnage, CNN reports that the carnage is the aftermath of "mostly peaceful protests", and certainly not due to any "riots". CNN can't possibly be trying to get away with a bald-faced lie. How could they? I think something else is going on here.
I was talking about the violence in Kenosha with a man in my church yesterday, and he said something very interesting. According to those sympathetic with BLM and the mobs, there's not a "riot," and there isn't "violence" until people are injured or killed. In their view, property is just "stuff", and that's what insurance is for. So, no, they aren't lying when they say it's not a riot and that it's "mostly peaceful." They are being internally consistent, if nothing else.
I call BS. They might be "internally consistent," but it doesn't matter. The logic is no different than that of the playground kid who is nasty and passive aggressive toward a guy twice his size. He mocks him and belittles him by making jokes and always maintaining plausible deniability. If you have sons, you know what this is like. But when the big kid finally can't take it anymore, he turns around and punches the little dweeb in the face. So the dweeb goes and reports to the teacher, and the big kid is the one who is punished.
CNN is lying by another means. They are aiding and abetting the dweeb who is full of resentment, hatred and violence in his heart.
What do you do if one of your sons, perhaps the little brother, is continually passive aggressive toward his older brother because of his insecurity, resentment and bitterness? Do you coddle the boy and comfort him, recognizing the poor boy's insecurity and fear? Nothing could be more destructive to the peace and well being of your home. Nothing could be more destructive to the happiness and contentment of the little brother! Fathers, you must not allow it to continue. Instead, you must have the faith to call your son, the "little brother," to be honest and content with what he has and who he is. If you check out, and fail to intervene and speak the truth, your sons will hate each other. They'll hate you, too.
Those pictures from CNN are like a mother coddling the little brother who has repeatedly provoked his older brother. Dad needs to step in and make it stop. Otherwise, there will only be more hatred and more violence.