My church doesn't run a VBS, but another church in the presbytery does, so we enrolled our younger children as participants and older children as helpers. When my wife noticed that the curriculum was produced by Answers in Genesis, I was dismayed since I am not a fan of that organization, but I let our children do it anyway since they had lots of friends going. And it seems to be a popular curriculum, considering that we saw several churches advertising it during a recent cross-country trip. Below is a blurb and a video from their website.
Preparing Children to Survive in Today's World

We are engaged in an epic battle for the hearts and minds of our youth. Every day, they're bombarded with lies about who they are, who their Creator is, and where their salvation comes from. Thankfully, God has given his children armor to wear in this battle between truth and lies, light and darkness, good and evil.

With this VBS, your kids will learn how they can be part of God's kingdom through salvation in his Son and will be equipped with the armor of God to become Keepers of the Kingdom and stand strong in today's battle for truth.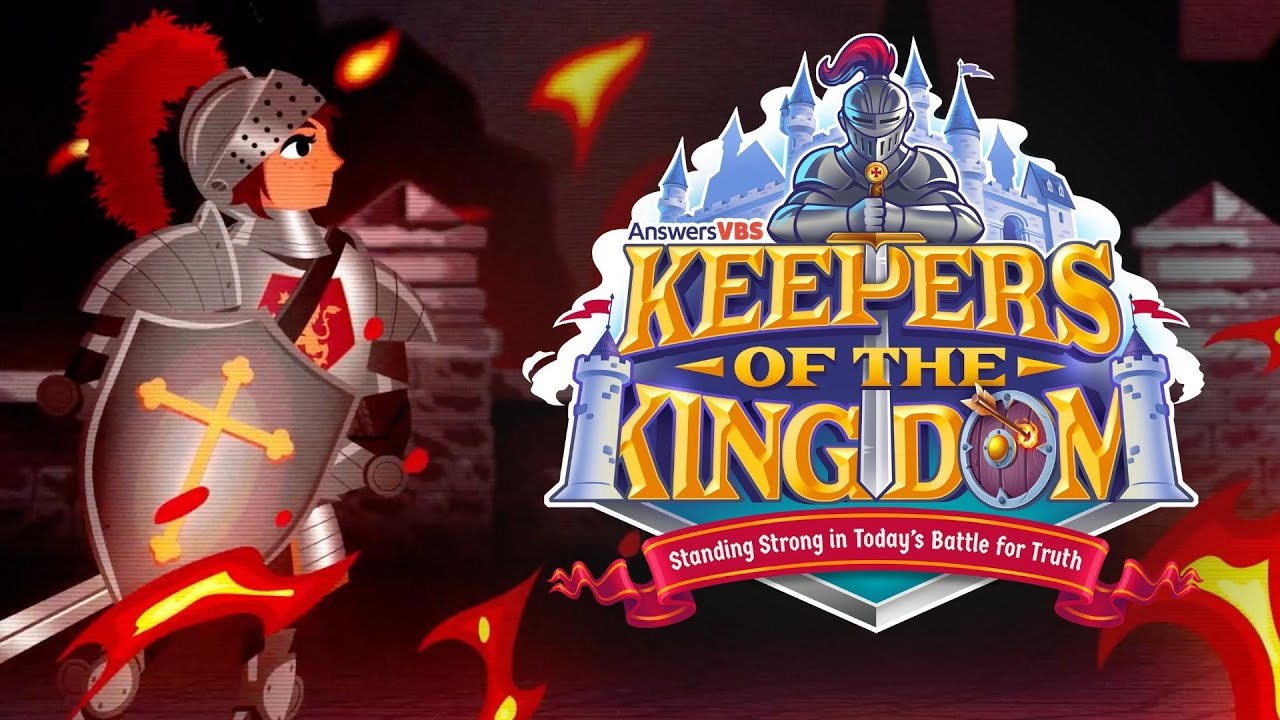 I am not a scholar of VBS curricula, so I don't know if this particular program is worse than any other, but I have a strong feeling that this is not the right approach and is not what the church needs right now. Below I will articulate some reasons why.
First, the advertisement for the program strikes me as giving off an aura of fear, which doesn't seem quite right. After giving it some thought, I realize that when I contemplate the secular world, I often feel anger, and I sometimes feel pity, but I never feel fear. I fully understand that the world is hostile to Christ, and therefore to me and my children, but this knowledge motivates me to be more diligent in raising my children in the nurture and admonition of the Lord, not to be fearful. Is this lack of fear of the world true for other men here? Because otherwise I would attribute the desire for a VBS like this to maternal anxiety.
Second, the program seems focused more on the mind (what to believe) than on the heart (what to love). This strikes me as a serious misunderstanding of why children raised in the church depart from the faith. Is it because they read Darwin in college and become intellectually convinced that the Bible is not true? Or is it rather that their affections are set on the world and they prefer the treasures of Egypt to the reproach of Christ (a temptation that is present in every generation)? I have never had the slightest qualm about letting my children read secular science books because they only touch the mind, but I am very careful about letting my children watch movies like Frozen because they touch the heart (I realize that Frozen is a rather old movie by now, but I have no familiarity with more recent Disney movies).
Third, if I wanted to equip a young person with intellectual tools to oppose scientific materialism, I would eschew Answers in Genesis material because it is pretty weak (indeed, my wife told me that our daughters remarked to her about the feebleness of the arguments they saw presented in the VBS). I believe that there are powerful arguments against scientific materialism, but AiG does not employ them because they do not provide support to the particular creation view that AiG wants to uphold. Despite the ostensible goal of the VBS, it seems to me that the program is more oriented around providing comfort (false comfort, in my opinion) to parents who do not face intellectual challenges from secularism, rather than equipping children who now or in the future may actually face intellectual challenges from secularism.
Last, does it strike anyone else as odd that the intro video presents a girl in the armor of a knight? While fully agreeing that women need to have spiritual qualities listed in Eph. 6:14-17, is it fitting to apply to military imagery to women? I note that in Part 2 of the Pilgrim's Progress, John Bunyan has Great Heart fight on behalf of Christiana unlike in Part 1, in which Christian donned armor and fought his own battles.