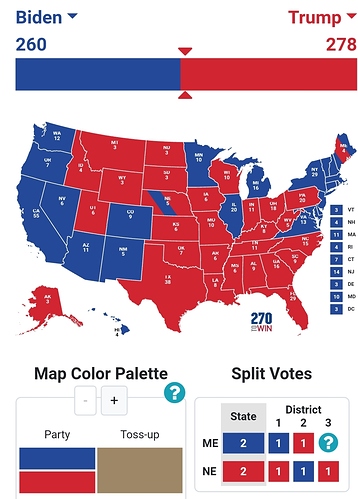 I'm no pollster, reporter or strategist, but thought it would be fun to start a thread on election predictions.
For most of this year, I have felt that President Trump was likely to lose re election. If the economy is bad, or the general state of the country is bad, people tend to blame the president whether the president is to blame or not. It doesn't make sense, but that's the way it is.
The media successfully blamed George W. Bush for Hurricane Katrina in 2005, even thought a hurricane is a natural disaster outside of any president's control. They have tried mightily to do the same with Covid 19, blaming President Trump for what the virus has wrought. Some people may be convinced, in particular older white voters who, in addition to being more at risk for the virus, were also an important part of the Trump base in 2016.
At the same time, many people are tired of the response to the virus. They want their kids to go back to school. They want to get back to work. They want to go to the store without a mask on. They want the old normal back. Due to Big Tech censorship and Enemy-of-the-People media censoriousness, many of these Covid-fatigued people don't say so out loud. They may lie to pollsters, not just about the virus but also about who they are voting for.
At the last presidential debate, President Trump clearly presented himself as the candidate of normalcy. After sending confusing, conflicting signals for much of 2020, Trump, beginning with the moment he emerged from Walter Reed hospital after testing positive for Covid, has been consistently making the case for normalcy. As in 2016, President Trump has tried to be the voice for forgotten Americans.
Besides his comments on Covid, President Trump acquitted himself well in the last debate. He wasn't needlessly rude. He wasn't a boor. He did far better than his previous performance. His closing act was strong, even if his previous acts were not.
The new outbreak of rioting and looting in Philadelphia will give Trump a needed last minute boost in Pennsylvania as well. That's my hunch.
It will be very interesting to see how Latinos vote and how they may sway some results in states. If Latinos turn out for Trump in a big way, which some polls have suggested, I hope they can carry him to a popular vote victory, just as they did for Bush 43 in 2004.
Feel free to rip me to shreds, especially since my opinion means no more than anyone else's. But my gut tells me President Trump isn't a goner, and he has a real chance to pull off another upset.