Stop talking about Bible translations and God's Words. We don't care.
I know. That's why I don't stop talking about Bible translations and God's Words. I'm no hipster or celebrity. I'm a shepherd. #Biblestraightup
Gag a man's words and you gag his confession of faith. Gag God's Words and you defy the Living God. Baptized or not, it won't go well with you. #Biblestraightup
B4 pastor leads his flock inn prayer of confession, he should confess his own sins. "Oh God my Father, forgive me for my greed. My house, my car, my clothes, my shoes, my lawn mower, my bank accounts all show me my sin. Cleanse me, I pray…" #goodshepherd
The pastor is the first one to know himself that our God is the only god ever worshipped who forgives sins: "Words of iniquities prevail against me. As for our transgressions, You forgive them." -Psalm 65:3 #goodshepherd
Where sin isn't preached, the Gospel isn't preached. Where God's Law isn't preached, sin isn't preached. Where God's Law isn't preached, there is no good shepherd. #goodshepherd
Two! Two Trinity Reformed Church guys have worked for Sidley Austin now. What a hoot. (Sure, they wouldn't like that word "hoot.") Mark Koontz and Mick Buschbacher join Michelle Obama & her husband as former employees. $3 bn annual revenues. 11th largest US law firm. They might be the highest paying law firm in the nation.
Oh yeah, buddy! Friends in high places. Such a time as this…
New year's resolution? Remind yourself each day, "He who began a good work in [me] will perfect it until the day of Christ Jesus" (Philippians 1:6).
There's no higher calling than motherhood.
Except fatherhood. #father
What does manosphere do with Samson telling Delilah to cut his hair? It's all the woman's fault? Seriously!? #father2son
I suppose they would say that his mistake was giving into the nagging?

I'm familiar with the popular idea that Delilah represents an unfaithful woman, but I can't think of a particular essay and especially not from that corner of the Internet.
I had always thought of Samson's father as faithful, too, though perhaps foolish to not more carefully inquire into the events that his son withheld from him. And perhaps careless in arranging the first marriage.
In ChronicleHigherEd, gay man complains Purdue Pres Mitch Daniels hasn't shut down street preachers. Think abt that. What's significant is not that Daniels hasn't shut them down, but that doc student is incensed he doesn't.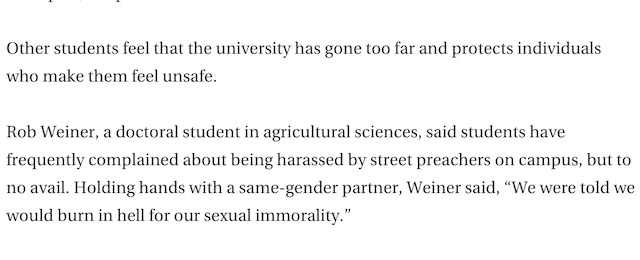 Read the book that exposes compromises being made w/LGBTQers by Christian celebrities today. Read the book that explains carefully why those compromises won't work. Learn to really love LGBTQers, with real faith. https://amzn.to/3itMszh
Frank Pavone speaks for 1st time since Vatican defrocked him—tomorrow at 3PM then 7:30PM (ET). Pavone heads Priests for Life. Reformed Protestants will want to hear what he has to say abt state of Vatican/RCChurch. 3PM: Defend Life
7:30PM: Peter Shinn - YouTube
Here's an excellent review of Olasky's just-released "The Story of Abortion in America." Olasky's counsel of compassionate conservatism WRT abortion is bad in all his usual ways. But wait! What's good is the book's first review by Nebti17. Read it. https://amzn.to/3W4HLts
Reading this review of Olasky's new book on abortion is perfection. Olasky should be ashamed. Crossway should be ashamed. Writers of the blurbs should be ashamed. Olasky/Crossway r charging $38 for it on Kindle!! Don't miss review. Mark it "helpful" Amazon.com
2 famous friends consider themselves paragons among Christian controversialists. Both men diss any man to their right. Both men's favorite diss word is "strident." Both men r certain they're great strategists. Both men greatly contributed to decline of Church & Her witness. Sad.
Concerning the 2 famous friends who style themselves generals, Church 2day has had enough of Lincoln's generals always blowing the bugle and marching but never fighting. What we need is Gen Grant. Apostle Paul. No wonder everyone loved Donald Trump. No wonder Piper felt hurt